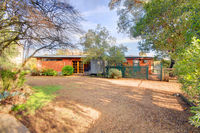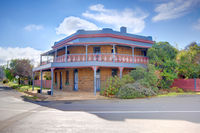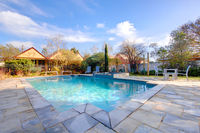 Welcome to Chesterfield House
Accommodation includes a unique 1860's Bluestone Residence, Which has been meticulously restored retaining its original charm whilst providing today's modern facilities. Guests will be delighted with the charm and elegance of their surroundings, which includes antique furnishings, open fireplaces, sweeping verandah and formal dining room.
There are also five queen sized cottages and guest sitting room set within an acre of beautifully landscaped gardens with in-ground pool and spa. On sunny afternoons, take tea under the 150-year old peppercorn trees or lounge by the pool.
Each cottage is fully air-conditioned with private bathroom and continental breakfast facilities. All rooms are complete with top quality mattresses, electric blankets, hair dryers, and flat screen televisions. Our pool and spa are salt water filled for your comfort.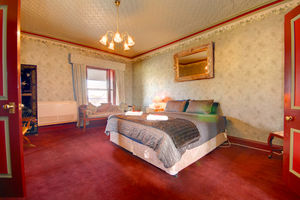 Chesterfield House stands opposite the Town Hall in the centre of Talbot, a gold mining town of relics and treasures found amongst spiraling streets, the smallest town you'll ever be lost in. Stroll through time along roads now silent. Talbot's original architecture is a reminder of it's population peak of over 30,000 during the gold rush.
Wine lovers will find us ideally situated between the Ballarat and Pyrenees wine regions. The Goldfield towns of Clunes, Daylesford, Castlemaine, Avoca, Maryborough, Dunolly, and Creswick are all a pleasant drive away. Talbot is fast becoming a popular destination for enthusiastic cyclists as they can now bring their bikes up by train from Melbourne, enjoy a leisurely weekend checking out the countryside and then catch the train back to Melbourne early Sunday evening.
Don't forget : Children and Pets are most welcome at Chesterfield house B & B.